The range of GARField magnets offer a high gradient external field of unprecedented uniformity of field magnitude (i.e. |B|) offering capabilities beyond those of standard STRAFI, at a lower cost
GARField Applications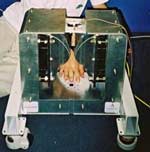 Typical applications are for thin film NMR including:
In the paint industry: for investigation of the efficacy of solvent borne coatings
In the wood industry: for monitoring curing and moisture penetration
In the pharmaceuticals industry: for measuring absorption of chemicals though the skin
In the cosmetics industry for imaging and measurement the absorption of cosmetics into the skin
In the construction industry for measure of moisture penetration and degradation of concrete
Many other applications to monitor diffusion and profile T1 and T2 over depth and time
Please contact us about your application.
GARField background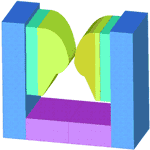 Conceived by Dr Paul Glover and Prof Peter McDonald (University of Surrey), GARField is a unique fixed gradient MRI system, designed to offer all the features of STRAFI and more:
The unique |B| gradient allows precise planar imaging of thin films
It is smaller and cheaper
The gradient G in the same direction of the B0 allows the use of efficient RF coils
1997 - First GARField designed by Dr Peter Aptaker in conjunction with Dr Paul Glover, University of Surrey (UniS).
2002 - The openGARField designed by Dr Peter Aptaker, for Prof Peter McDonald (UniS) to address restrictions in sample size and access.
See, for example, "A Novel high-gradient permanent magnet for the profiling of planar films and coatings", P.M. Glover, P.S.Aptaker, J.R. Bowler, E. Ciampi and P.J. McDonald, J. Mag. Res, 139, 90-97 (1999)
openGARField Key Innovations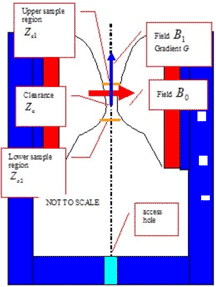 Laplacian's GARFieldField is an open access implementation designed to address larger samples, such as those required by timber and cosmetics applications.
Features:
Extra large sample clearance (30 mm)
Open-access (ideal for timber, cosmetics)
Dual sample regions with different G/B